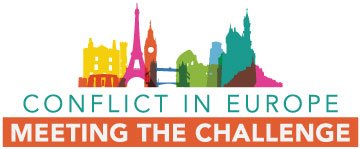 Conflict in Europe: Meeting the Challenge The International Institute for Restorative Practices Europe Conference
Conflict in Europe: Meeting the Challenge The International Institute for Restorative Practices Europe Conference
C
General Information
9-10 May 2017 – Dublin, Ireland – "Conflict in Europe: Meeting the Challenge," the IIRP's Europe conference, will address significant issues manifesting in the current world climate. Leading practitioners and thinkers who are shaping the emerging social science of restorative practices will discuss radicalisation, migration and immigration, the disruptive impact of political movements, and sexual abuse and exploitation.
"A lot of things that were somewhat fixed in our society are becoming more fluid," says IIRP President Dr John Bailie. "Globalisation has allowed the flow of products, ideas and people; borders have become less insular. Not surprisingly, societies across the globe are struggling to adapt."
Restorative practitioners from across Europe and the world will convene at the conference to offer solutions including:
Jo Berry, whose father was an MP killed in an IRA bombing, has since reconciled with the man who planted the bomb and will discuss her journey of healing.
Yousiff Meah, Chief Excecutive of RecoRa Institute (Recognising and Responding to Radicalism), will discuss how he works directly in communities with young people and adults to address radicalisation.
Darren Coventry Howlett, an officer with An Garda Síochána, Ireland's National Police & State Security Service, along with co-presenter Adrian Cristia, Executive Officer of Dublin City Interfaith Forum, will discuss how community policing can reduce tensions in highly charged communities.
Additionally, presenters and attendees in the fields of policing, education, social work, academia and organisational leadership will demonstrate how the field of restorative practices can heal wounds and improve relationships.
WHAT: Conflict in Europe: Meeting the Challenge – The IIRP's 22nd World Conference. Hosted by IIRP Europe.
WHEN: Tuesday, 9 May – Wednesday, 10 May 2017
WHERE: Dublin, Ireland – Citywest Hotel
HOW: To learn more about the conference and register go to: dublin2017.iirp.edu
Collaborating Organisations
About IIRP Europe
With the longest pedigree in the field of restorative practices in Europe, IIRP Europe offers the highest standard of consultancy on all aspects of implementation and delivery of restorative practices. IIRP Europe serves the entire continent of Europe with public and on-site training and continuing professional development events and consultancy. The UK Restorative Justice Council (RJC) has awarded IIRP Europe its Training Provider Quality Mark (TPQM) for all its courses. Learn more at www.iirp.eu
About the IIRP
The International Institute for Restorative Practices (IIRP) is the world's first graduate school wholly devoted to developing the emergent social science of restorative practices. In addition to offering a Master of Science in Restorative Practices and a Graduate Certificate via online and hybrid learning, the IIRP is a world leader in restorative practices professional development. Our faculty, instructors, international affiliates, partners and licensees collaborate to develop the practice, theory and research that underpins our work of 'restoring community' throughout the world in the fields of education, justice, social work, family and community development, leadership and organisational management. Learn more at www.iirp.edu
About Restorative Practices
Simply put, restorative practices is the study of relationships and community – applied in a wide variety of settings. Restorative practices integrates developments from a range of disciplines and fields, including education, psychology, social work, criminology, sociology, organisational development and leadership. Restorative practices build healthy communities, increase social capital, reduce the impact of crime, decrease antisocial behaviour, repair harm and restore relationships.