Our work in the UK
Our work in the UK
Our Work in 2021
We received  funding from the Coronavirus Community Support Fund, distributed by The National Lottery Community Fund to make a difference to young people living in communities affected by Covid 19.
We impacted more than 1000 young people and 50 young people in ongoing smaller groups. The smaller groups were from a school in Tower Hamlets and other places were Manchester, Leeds, Gloucestershire, Cheshire, London and Birmingham.
The workshops covered developing resilience and empathy, transforming anger, listening skills, self-care, self-esteem, resolving conflict, setting healthy boundaries, and mutual support, all of which contributes to them becoming positive changemakers.
They were able to safely share their experiences during the lockdowns, how they felt, including difficult emotions such as grief and fear, and how they felt about their future. Through deep listening and sensitive facilitation, they felt understood, supported, and validated. The participants are now better able to address their challenges, overcome the effects of trauma and look forward to a better future.
With the smaller groups, we worked on projects when they turned their fear into becoming positive changemakers.  They worked on creating posters and badges which had uplifting words on them. They explored resilience and kindness and discovered that their mental health improved when they spread kindness. At the beginning they said they felt, 'confused', 'scared,' 'sad' and they looked very worried. Once they were heard and validated, they moved into looking at what resilience is and looking how people spread random acts of kindness. When they started working on their kindness projects their spirits lifted and they become more resilient.  The overall feedback was how inspired they were, and they were going to look at their problems differently.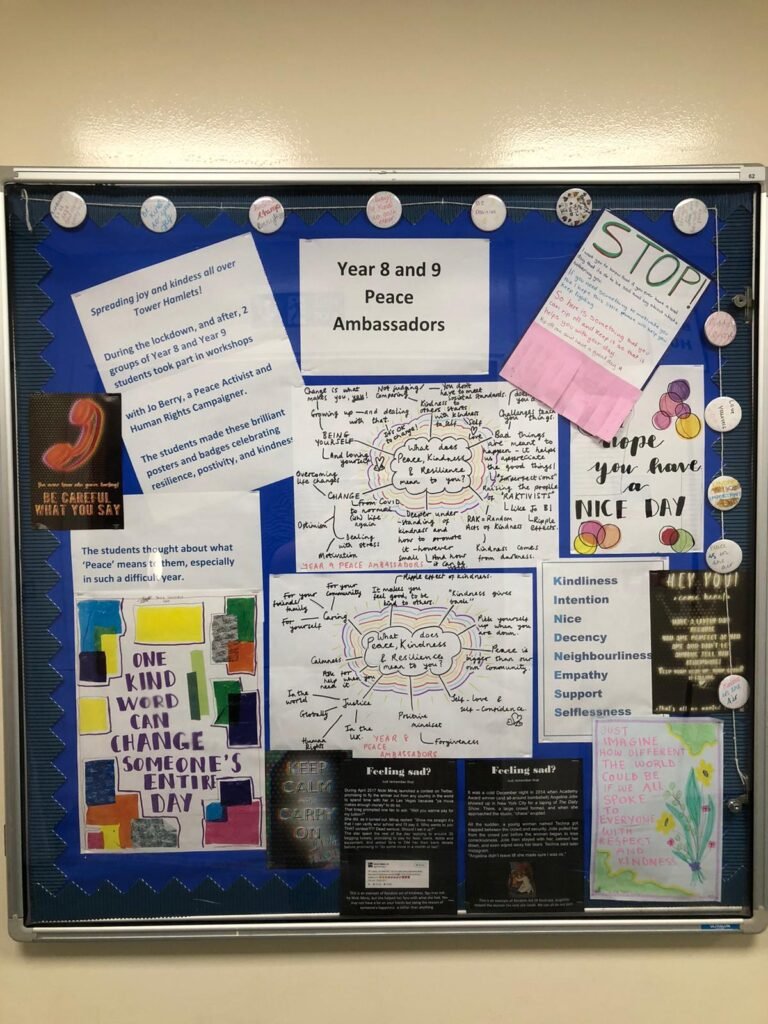 Testimonials
From the young people aged 13:
'When I came to the club, I started to be kind to myself. I saw that being kind to others helped me feel better and be more resilient.'
'Being here has taught me that violence isn't the way to create peace and there are many choices, I now understand empathy.'
 'I have grown my self-confidence, and this helps when people are mean to me, as some people don't care and will sat whatever they want. Having more confidence helps me deal with this. '
'I have developed a good mindset, even when things are hard at times, I can face my challenges and have positive thoughts, so I feel better.'
'This project we taught others to be brave, confident and how to be kind to others and this helped me feel better.'
'This improved my self-esteem, and self-love'
'I learnt more about kindness and realized we need peace in the world, and I realise peace means a lot of things.'
From Oliver Creed, Enriched Learning Coordinator, Mulberry School for Girls:
'Beginning during the 2021 Winter Lockdown and continuing until May half term 2021, we ran a programme with 2 groups from Year 8 and Year 9 (ages 12-14). These 'Peace Ambassadors' took part in sessions with Jo structured around their thoughts and feelings over the lockdown period. Focusing on Kindness and Resilience, students took part in group discussions, expertly facilitated by Jo, developing their listening skills and ability to engage in dialogue with each other. As a result of the work that Jo did with students, students ran a 'campaign' of Kindness and Resilience as we returned to school after the lockdown. This included badges being made for students and staff, posters and wall displays being created, and creative pieces of work displayed around the school – to help encourage other students to be kind and show resilience.
The project helped students to become more articulate, better activists and change-makers, and also helped ease the effect of lockdown on some of our more vulnerable students. The programme had multiple benefits for these students; our students come from vulnerable backgrounds, and many have been negatively effective by the COVID Pandemic. Listening and talking, and the subsequent campaign which came from it, had a tangible benefit on the students' confidence and self-esteem.
I would definitely work with Jo again and look forward to working with her in the future on a similar programme. The students still ask after Jo and really enjoyed their time working with her.'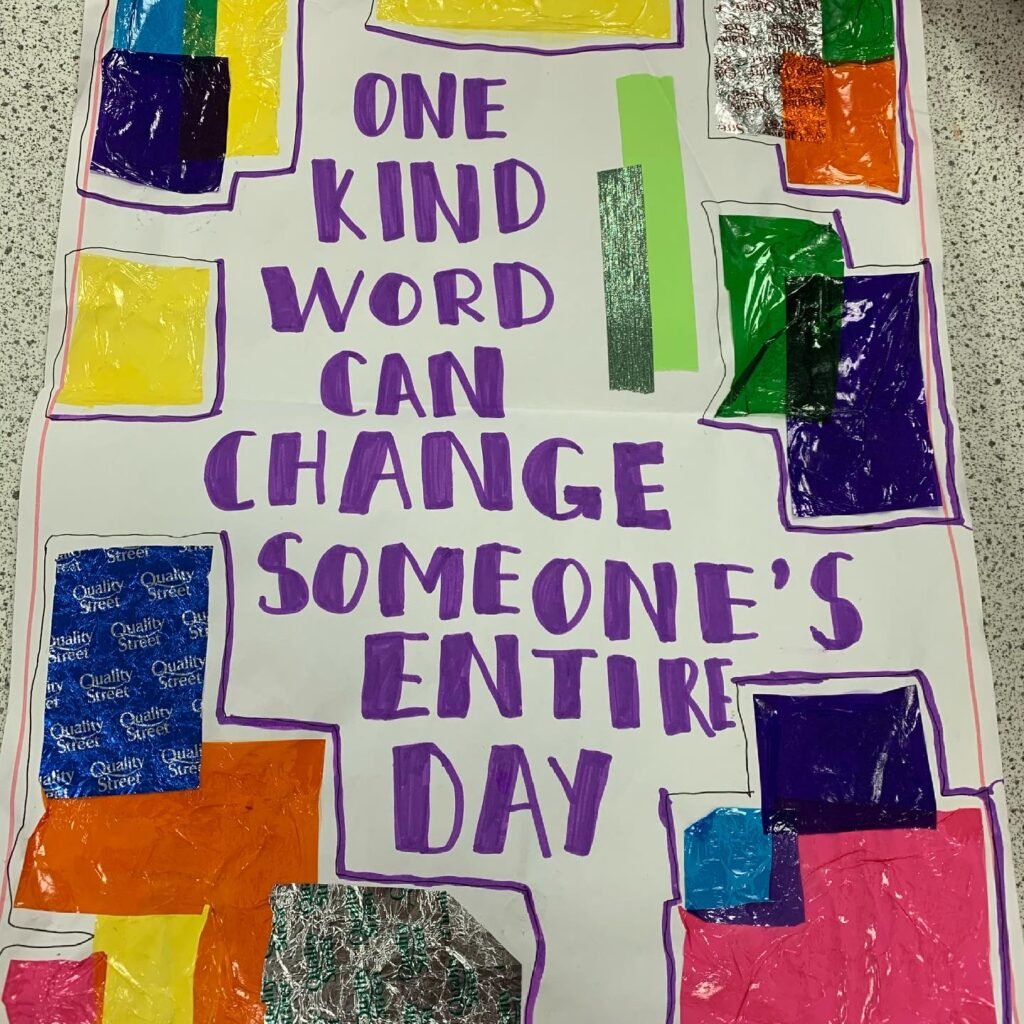 From Laura Columbine, Futures Leader:
'Jo's talks are highly engaging and eye-opening. In speaking with us about her actions to bring peace following the loss of her father in a terrorist incident, Jo helped us to consider how we might respond in a similar situation. Jo does not offer a one-way TED talk style speech – she encourages discussion, is honest, vulnerable and open to criticism. She welcomes the fact that not everyone will agree with her.
Though speaking about a conflict largely unknown by the young people engaging with our programme, Jo drew out some powerful points, dealing with issues that are very relevant to young people today. They leave feeling heard and validated and more able to deal with their own challenges. Jo emphasises that it's not about who is right and who is wrong, it is about trying to understand another point-of-view, with empathy being the biggest weapon we have to end conflict.' 
From Dave Fisher, Forest High School, Cinderford:
'Jo helps us put forgiveness and humanity into our practice. She offers us an extreme perspective whilst also speaking frankly about the 'everyday' face of restorative practice.
This is important during these times of uncertainty and with the continued challenge to wellbeing that the Pandemic has caused. In the face of discipline-oriented approaches in our society and schools, with highly marketed 'ultra-strict' head teachers offering quick solutions to complex problems, Jo offers a breath of fresh air and necessarily intelligent thinking.'
'Jo has been reaching out to young people during Lockdown and has already joined us in an online seminar before delivering an online assembly to our year 11 students. We all sat awestruck and silent as Jo retold her story of losing her father. She fielded our questions about what it takes to meet such a loss with bravery and compassion. Listening to Jo's responses wasn't easy. We often talk about 'being ethical' with our students but Jo demonstrates how it is to 'walk the talk. The assembly stirred many responses; some incredulous, some inspired, all necessarily complex.'
From Simon Lewis, Shaftsbury High School:
The students and I all had an inspirational time with you! To listen to your beautiful words of hope, forgiveness and love, while being humbled by your journey that has brought you to these conclusions was simply awesome! The students were naturally drawn to your warmth and willingness to listen to their own stories, to which they were only too pleased to share!
I have been extremely blessed this last year with the students I have had…it has been the greatest pleasure of my working life to be with them on their journey for this time. Some have now gone to college, some will stay but move onto different areas of the school, but we will all never forget the year we spent together. Meeting you and spending time listening to your wisdom and sharing their own experiences was so empowering for them. I watched their confidence bloom at being able to open up their heart to someone they only met briefly and not even in person, but through the digital learning space.
They all remarked at how much they appreciated your kind words when you listened to their creative works. Everyone felt affirmed that what they were doing was of real fortitude for themselves and others who may come across their work.
Thanks again for your precious time….it was so very much appreciated
Simon Lewis
2018 and 2019
Jo Berry has been developing workshops in schools and youth groups, empowering young people to be positive change makers. We were very happy in 2018 and 2019  to secure funding from Building a Stronger Britain Together.
Empowering young people to be peace ambassadors
Jo Berry writes – This is a project very close to my heart and such fulfilling work. We had funding to work in the East End of London over a few months.The number of young people impacted were over 1000 young people with 40 young people working on projects over three months.  The ages span from 13 to 17.  I spoke to many assemblies in 8 different schools and chose two schools to work with a group over a few months.
 Mulberry School for girls  in East end of London
I started off by creating a safe place and thought they started tired, they soon woke up, became enthusiastic and excited,  and shared their grievances which were many. They also had stories and experiences of receiving hatred in their community, racist attacks and felt their voices would never be heard.   Firstly, their projects of how to change the world were huge and involved the world but by the second session they decided to focus on changing their school. In the end they focused on mental health in the school as they felt it wasn't taken seriously and was affecting their wellbeing. They could see that girls were not fulfilling their potential due to lack of support with their mental health.
As well as the project, we looked at inner resilience, listening skills, the importance of language, how to challenge, leaderships skills as well as how to communicate effectively.
They created a questionnaire for the six form and asked them questions on mental health. We worked on the difference between leading questions and open questions. They received over 100 responses and we evaluated the data. They then created a presentation and showed it to three teachers who have influence on policies in the school.
Their point being that if their mental health was taken seriously, they would be less bullying, less stress, and they would be more able to study and be successful young people.
Their data showed that there was a lack of support and they researched recommendations One outcome was the school is to be more aware of restorative processes and we started looking at what this is in our small groups. I became very close to the girls and they were so amazing, intelligent and creative. As you can see form the incredible feedback the girls trusted me and it was an honour to work with them. I am completely committed to them and will be back for follow up days.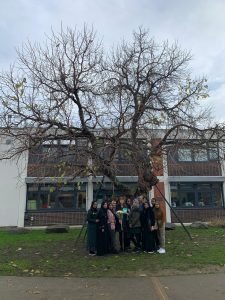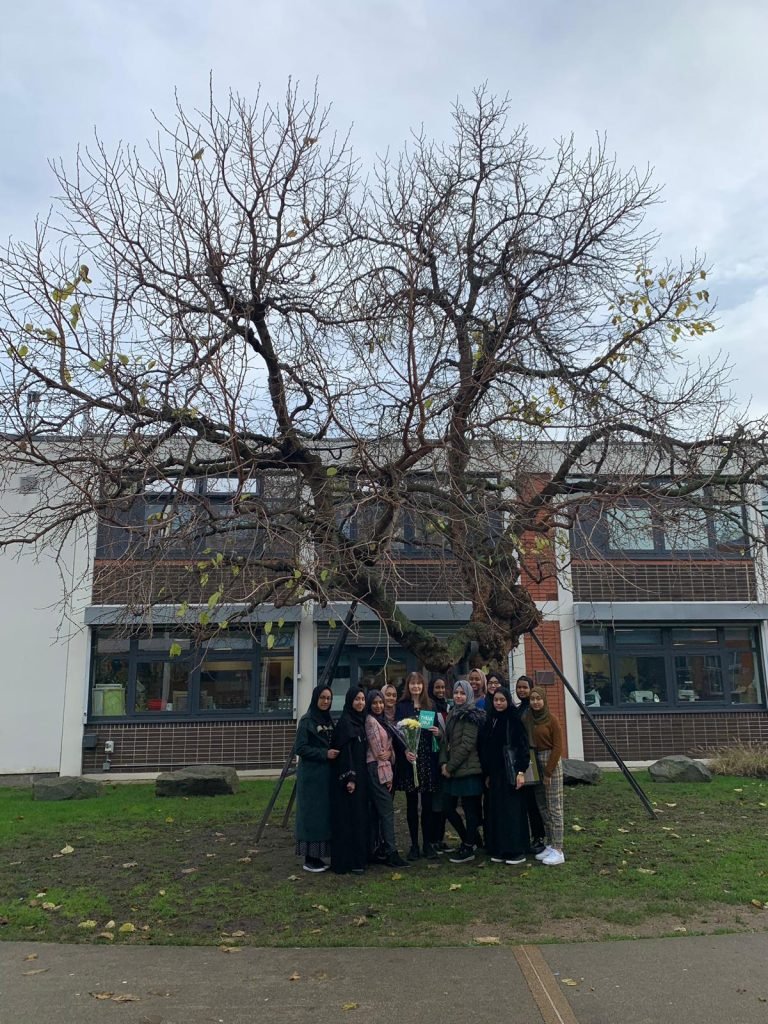 Feedback
All said they were more able to empathise, and the workshops raised their awareness about extremism and radicalisation. They said they strongly agree that now they know can make a positive difference in their communities.
Individual feedback, a sample
I gained many skills such as confidence as I'm able to speak out for myself. Also I feel like I have become a better listener.
I have never felt so empowered in my life. I am able to voice my opinions without fear. I was able to be less resentful towards a certain group by being allowed to express my feelings. Sometimes having someone that could listen to you, frees the hate inside of you.
I have become more aware of the problems we face in our world and school and that it is important to voice our concern and take action to bring about the change we want to see. I have gained confidence to talk in front of people Furthermore it has helped me realise that in the future I would like to have  a job which about positive change.
I have developed my confidence skills and my ability to speak out against different lives I gained that I am not the only one in my experiences.
During this process, I've become more conscious of other's feelings, and I've increased my awareness about what I say and the effects it has.
I gained valuable experience in learning how to express and vocalise my opinions in an effective way. I have definitely realised my potential as a young person regarding the change I can make not just within school grounds but anywhere.
I am more able to empathise with others and being able to realise that everyone has their own doubts.and worries, this humanises everyone.
Jo has helped us to realise that we are all important. I feel as though we have been heard and listened to. I have learnt that my voice is important. I gained a lot of skills. I have learned leaderships skills and being more empathetic. Jo has helped me to voice my opinions and that our collective voice is important.
Jo has been an amazing role model for us. Peace Ambassadors has been an outlet for us and I feel that she has taught us to become less resentful; and use that energy in a good way. She has changed our lives for the better and I will always remember this experience.
Jo is very supportive and reliable. And is able to understand how we feel. It has been nice having someone listen and actually care.
She has inspired us to go forward and voice our opinions and supports us immensely.
Girls at Langdon park school
In Langdon park, I worked with a small diverse group of girls, they called themselves Eco peace ambassadors.  They decide to look at making their school more eco aware, they did excellent research in what they can do to stop global warming. Their research showed them they could change in three areas, have their school go meat free one day, stop single plastic and they found alternatives, and be part of tree planting locally.
We had a few sessions of looking at their inner resilience and changing their inner critic. I achieved this by creating a safe place for them to share. This was very emotional for them all, many tears and out of that came a new feeling of support between them all. It was very moving and a privilege to witness their vulnerability. They also developed listening skills, how to get their voice heard, and  leaderships skills. I am so inspired by their passion and will be keeping in touch with them.
Feedback from Eco peace ambassadors
Have you been changed through the process?
I have been more able to speak my mind and contribute to the wider group. As I have watched others grow more confident and heard Jo's encouragement, I have more faith in what I want to say about important topics.
I feel much more positive about myself, other people and the world since Jo has showed me how you can listen to and help even those who have brought you grief in your life.
Yes, I have, I feel more confident. Jo has helped me realise my voice is important and she made me feel heard. It has helped me to feel confident talking to new people
I feel as though I know more about my peers better -their problems, their interests etc. We have been encouraged to open up to each other and be more honest and truthful
What did you gain through working on the peace ambassador project?
I understand how young people can have an influence on matters they feel is most important. I know I can do things to change the environment. I have already taken part in this, which has led to changes made in my own school, so I am now more knowledgeable in the sense that I know more there are so many things I can do to contribute to the world.
I took part in helping the climate crisis by practically trying to change the school by eating less meat and using websites that help plant trees around the world.
I have gained the confidence to say how I feel, and that my opinions can make a change. I have also gained a new knowledge because Jo tells us about the world, many things we are not aware of, which makes me want to help out more.
More knowledge on political, socio-economic factors on environmental issues.
Would you recommend working with Jo? From both schools
Yes, Jo makes you feel empowered and comfortable. All your problems, ideas and interests are understood by her, and she will help you turn your  thoughts into actions to better our society.
Yes, of course. Jo listened to our concerns gave us advice and also heavily encouraged and supported us in our project to help the environment.
I would recommend others to work with Jo, because it is a great life experience that helps you see the world in a different way. The project opens your eyes, to world problems that need and should be solved, and that we can be the start for a change.
Yes, she is very kind and caring. She is capable of sympathising with a whole range of people regardless of race, ethnicity religion which is a rare gift.
Jo Berry is a gem. She has come to us as a saviour to hear our needs, so desperately needed to be voiced and encouraged us that we can make positive change in society. Her optimism and passion empowered all of us. Her enthusiasm and energy has made us all more confident and passionate.
I would recommend Jo as she is very easy to confide in and she clearly listens and contributes solutions.
I would undoubtedly recommend Jo as it is an experience which allows you to express your views and vocalise your emotions. Jo is extremely kind-hearted and supportive, and her positive vibes radiate and encourage you to feel the same.
She listens to what we have to say without judging.
She has taught us a lot about empathy and how to raise concerns in a appropriate way that ensures maximum benefit.
Summary
My main focus was  to enable the participants to deepen their empathy for others whom they may have seen as different, increase respect for themselves and others, no matter what their background and uncover a greater resilience to temptation to be drawn in to divisive or de-humanising narratives.  I think the feedback shows this happened, for example:
She has taught us a lot about empathy and how to raise concerns in an appropriate way that ensures maximum benefit.
 Peace Ambassadors has been an outlet for us and I feel that she has taught us to become less resentful; and use that energy in a good way.
Also, my aim was for them to have to have a greater feeling of empowerment, a positive sense of belonging and more purpose in their lives.
Jo makes you feel empowered and comfortable. All your problems, ideas and interests are understood by her, and she will help you turn your  thoughts into actions to better our society.
 Jo Berry is a gem. She has come to us as a saviour to hear our needs, so desperately needed to be voiced and encouraged us that we can make positive change in society. Her optimism and passion empowered all of us. Her enthusiasm and energy has made us all more confident and passionate
 I heard from their feedback, the responses in the bigger sessions, that they now feel empowered, some even changing their University subjects so they will career that supports them so can make a difference in the world.  Their self esteems were enhanced, and they have become more emotionally intelligent.
 Empowering young people to be Positive Changemakers. 
The Building a Stronger Britain Together (BSBT) programme supports civil society and community organisations who work to create more resilient communities, stand up to extremism in all its forms and offer vulnerable individuals a positive alternative, regardless of race, faith, sexuality, age and gender. The programme allows organisations that share these aims to bid for in-kind support and grant funding for specific programmes that deliver goals set out in the Counter Extremism Strategy. Building Bridges were successful in their bid to work in schools in Tower Hamlets in early 2019. This has led to 1,800 young people being impacted, and some have gone on to working with Jo Berry in their own projects. The project finished in July 2019.
Jo Berry reports on the success of the project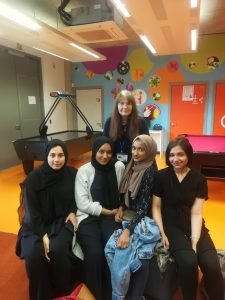 The issues they grapple with were far reaching. In many schools the questions of revenge were explored and some young people saying it was justified, on some occasions. I asked them to explore what happens after a revengeful act is carried out and got them thinking who would be affected. They began to see that with pain and anger there may be a human need to respond with more anger but actually it has the opposite result. We then explored what could be a safe way to be angry and how they could get support so they can move on from anger. It was clear that the idea not going for a non-revengeful response was new to many. Many comments were about how inspired they were, and they were going to look at their problems differently. They talked about challenges they feel as young people, such as bullying, knife crime, climate change and family challenges. My time with them covered the attacks in Christchurch (March 2019) and Sri Lanka (April 2019). As many young people in the audience were Muslims, I created a safe place for them to share how they felt. Many said they felt less safe as a result of these incidents and were worried. I gave them examples of people reaching out to help Muslims feel safe, and Muslims helping Christians. I helped them see that there were many caring people around and to focus on that. I also really heard them, and acknowledged it is ok to feel unsafe. In some schools the daily harassment they experience was explored and out of this came one of the projects.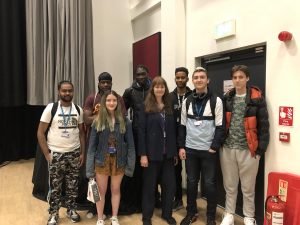 We talked about empathy is not the same as condoning behaviour and the importance of challenging but without hurting others. We explored how different it would be if empathy became normal and how listening can be lost in times of stress. We talked about the importance of having peace heroes and I gave them examples, as well as asking for theirs.
In every school I spent time empowering them to be positive change makers, and giving examples of young people. I gave them examples of people reaching out of their other and building bridges.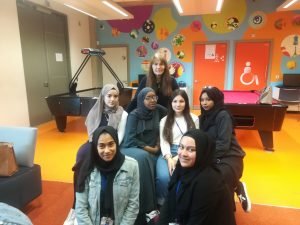 One of my groups were told that a particular set of girls in year 10 were struggling to speak in class as they were so insecure about the reaction of the boys and worried how they would be treated if they gave the wrong answer. As a result the girls in year 13 that I was working with planned to do 6 workshops, to enable the younger girls to be more confident and to help them find their voice.
They have all learnt listening skills and the importance of acknowledging and looking for the positive support they can give. We have had a session on their own inner negative messages, two very emotional sessions where they shared their own experiences of being 12 and scared to speak and the inner obstacles they have now. Each session ended with them choosing to find a positive message they can give themselves plus hearing from their friends as to how they see them. This has deepened the trust and support in the group and I know these girls are going into their A level year with huge support from each other. The issues we have covered are many and include: body shaming, cyber bulling, how to respond when the boys keep mentioning their mistakes, developing resilience, role models of young women who talk about mental health and inner beauty.
Feedback
One participant said, "I found it incredible. It was so moving and inspiring to see someone choose empathy and understanding. It made me question the way I express my own opinion."
In particular this feedback moved me deeply as it is the impact I would love to happen but can never be sure that it will: 'Being able to express how I, as a young Muslim, feel about certain topics without being told I'm wrong.' Another wrote, 'She cares about us minorities'.
The feedback from Sarah-Jane Gordon, Head of Sixth Form at Langdon Park School, Tower Hamlets sums up the impact in her school:
"We have been lucky enough to have Jo Berry visit us many times this year, and the impact of her work has been profound. In the large group sessions where Jo shared her story and then invited questions and discussion, she deftly supported students in reflecting on their own experiences of conflict and being labelled. Most of our students are Muslim, and they really valued the opportunity she gave them to express how they were feeling after the mosque attacks in New Zealand which had happened the previous week.
After these sessions, there was a definite shift in students' feelings on these issues – initially they felt quite powerless and very much saw themselves as victims of a narrative that portrayed Muslims as a threat and 'the other'.
With Jo's encouragement, they began to look more deeply at extremist narratives and think critically about things rather than just jumping to conclusions. I recall a particularly significant moment when one of our Year 12s, in his second session with Jo, said of the mosque attacker: 'He's just a victim whose story we haven't heard yet'. Recognising that anti-Muslim sentiment often stems from a lack of understanding of Islam, a group of girls have now decided to go and give talks to students in other areas of London so that they can 'show them that we're not all terrorists, that we hate ISIS even more than they do, and explain to them what our religion is actually about has a real flair for giving young people time and space to reflect and making them feel heard.
This safe, non-judgemental atmosphere that she creates has allowed students to express things that we, as busy teachers moving from lesson to lesson, might not have heard otherwise. In the extended work she has done with some of our Year 12 students, I have seen all involved grow in confidence and recognise their own potential for raising awareness and creating change. They are now not only feeling empowered, but are now, with Jo's support, at the final stage of planning to take action on the issues that matter most to them. Seeing how Jo has taken a wholly negative experience and made something positive come out of it has inspired them to feel they can do the same."