Participant Testimonials
Participant Testimonials
Following are some reflections of the day which capture the essence, the impact and indeed the success of the event.
Thank you so much for the events on Sunday. Fenna, Sophie and I had a fantastic time – far beyond any expectations. As you know, Sophie said it was the most amazing day of her life – and it was pretty high on the list for me too. Very moving, inspiring and informative, with some great contacts made and ideas for the future. Participant
I found Jo's and Pat talk inspiring in the way of them being very open and personal. I feel I got a deep insight on a real and authentic level. Also I thought the presentation with the facts and figures was very important to understand the scale and background. I understand that actions need to be done for a long time. I realised that also I can take little steps regarding my family & neighbourhood and in the community. The bigger picture used to scare me so much that I disconnected myself from situations but now I see it much clearer.  Young person
Kai is an amazing facilitator in engaging and bringing everything together. Inspiring. And showing us a world of alternative ways of resolving conflicts. It was amazing, an inspiration of how two people as Jo and Pat with such conflicting backgrounds can meet and see the other as human. Now I see communication and spaces for it needs to happen at all levels, personal, community and world. Taking action is needed. I want to find ways of doing it. I've hints where to search now and looking forward to getting access to materials I didn't even know existed. Young person
It was all one highly beneficial and inspiring flow, raising ambitions in the projects I'm working on and renewed passion for nonviolence.  Participant
I will now think about the underlying causes behind the extreme views that people have, I will consider them more as humans with lives and problems and hopes.  Young person
Each section was really inspiring and informative. Hearing the stories from all the speakers was amazing and the information from Kai was fantastic. I feel more committed than ever to the work I do in mediation and conflict resolution in my community. I d like to find ways to connect and support organisations on a more global scale.  Participant
The day you so kindly invited me to 3 weeks ago will be etched in my memory forever. Being with all the people there that day has cemented in me the reason I believe I am here which is to help people with my compassionate strength and empathy. I will never forget the experience, meeting you and so many inspirational people and hearing your testimonies. I deeply thank you for allowing me to be part of the day. What you are doing is so important and so good. I know that what you are doing will become huge as people know in their hearts what is pure and good. Sharing, hearing, understanding, and working together is the only way forward for humanity in our personal relationships and on a world scale.  Participant
Thank you Jo, for meeting me, for allowing me to be part of your work, for the work you do, for reaching out and touching people with your love, forgiveness, understanding and empathy. You are a shining light of hope.  Participant
If I had to pick just one word to describe this day, I would say "powerful". Powerful in so many different ways. Firstly because of the immense knowledge of the facilitator, Kai Frithjof Brand-Jacobsen and his sensitive, but also straight approach to the day´s topic. Secondly, I felt I was now able to approach and see violence from different angles. I, as a woman with a very peaceful and supportive childhood felt often strongly disconnected and far away from violent situations, countries, people. After that day, violence – for me – was put into perspective again. I realized that violence is even in me. In fact, it starts within us. Perceiving this issue on a smaller, personal scale now, I understood that actions need to be taken. Only because actual wars and fights do happen in other countries, in an "unreachable" place for some of us, that does not mean that they do not exist or that they don´t affect us. Due to my incredibly intense feeling of needing to take actions, I phoned my sister who I haven´t talked to for a very long time. Our communication over the last couple of years mainly consisted of unresolved conflicts and huge misunderstandings. Now I understand that conflicts are actually a good thing – as long as we know how to deal with them effectively. In order to move on with my sister we decided to consciously take time for talking so that we both have the chance to understand each other and work on our conflicts and misunderstandings.
Thank you so much for helping me to understand violence so that I am able to act upon it!  Young person
Thank you for a truly memorable day – it left me full of hope that, despite the enormous challenges, there is a positive way forward to a more peaceful future.
I have felt more dedicated to the work as I do as a community mediator, as I came away feeling that every time there is a peaceful and equitable resolution to a conflict, however small scale it is, the benefits can ripple out into wider society. I feel grateful that I am able to listen to the stories of those in dispute with their neighbours, having heard from many of the speakers what a trans-formative thing it can be, to be truly listened to.
There is so much more I could say – I found listening to all the speakers so inspiring and thought provoking. I found it particularly moving to hear Jean Paul tell us how having you and Pat go to Rwanda to tell your story, gave credence and power to his wishes to try and build peace and reconciliation in Rwanda.  Participant
I think for me the most powerful things to come out of the day were meeting the various inspiring people.  Meeting the veterans for peace.  Hearing from the inspiring speakers.  It is always moving to hear people's stories.  One of the highlights was speaking to the ex security man from the Grand Hotel. He made a last minute decision to attend the event, having suffered for years with anger and hatred after the huge impact of the bombing on his life.   I heard his story of moving from hatred to forgiveness.  He actually asked Pat to forgive him, for all those years of hatred.  The event really gave him the catalyst he needed to move on and that is amazing.  And for him to be able to speak to Pat Magee personally is so powerful.  He is now sharing his story and inspiring others.  Participant
I had absolutely meant to drop you a note of thanks for what was one of the most inspiring and empowering days I have ever experienced. I left feeling so imbued with passion; I already work campaigning for social change, but now feel a renewed focus on anti-violence (all forms), personal empowerment and humility.  Young person
Thank you so much for organising the event. My son Ruben was really affected by the event and by his contact with everyone who had given up their day to run the workshop. They were generous with their time and with their honesty in answering his questions. He said that one of the things that struck him most was seeing both sides of an argument, either ongoing or historical, sitting side by side, as human beings, trying to understand each other. He said that you never see that or hear that normally. We don't have a TV, but on the radio arguments are always presented as dogfights, with the opponents whipped up into even more heated opposition. Not that he invented it, but he feeds off it. Anyway, Ruben, through what he saw and heard at the workshop, realised even more clearly what is missing from the media coverage of conflict. It encouraged him to think beyond the bare bones of what is presented to us. We're encouraged to take sides, aren't we? And the stories of the participants are stripped of any shades of meaning and turned into pure black and white.
He, and I, were especially impressed by Patrick Magee's willingness to throw himself into the lion's den. He has no need to take part in workshops and events, especially not in Brighton. It must take a truly genuine wish to encourage understanding of the possibility and the power of forgiveness in the wider public that keeps him putting himself in such an uncomfortable position.
You too, with your willingness to sit on panels with Patrick, never knowing if he might say something that will cause you pain, as regards your father, are an impressive example of the ongoing process of forgiveness close up. It's not a thing that is done once and then forgotten, is it? In a lot of ways, the daily grind and conscious choice of forgiveness was most powerful in those of the panel who have chosen to bring themselves back into the places where they originally made or suffered the effect of wrong acts. Lee, the ex-soldier who has chosen to live in Belfast and help the city to understand itself or Bjorn, who chooses to keep his head above the parapet as regards Breivik, even though his words don't fit the story that Norway wants to tell itself about that day. And you and Patrick Magee.
In the film, the parents of Palestinians and Israelis, working together to understand each other is an idea that would soothe the presentation of the conflict – but we rarely get to hear about groups like that. We are presented Israelis and Palestinians as firm blocks of perpetual opponents, with hatred in their hearts for each other, rather than groups of individual humans with varying attitudes towards each other.
I won't go on and on – I'm sure I'm not telling you anything that you don't know already! I'm just trying to explain the effect that the workshop and the film had on us.  Participant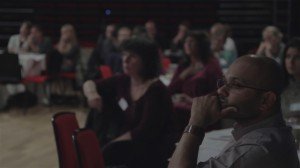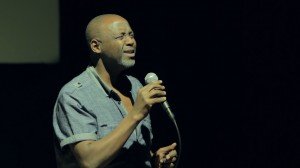 I was thinking about what bought me to Brighton as an individual who hasn't experienced much conflict in my life. No more than small arguments within family or social groups and outside of teenage punch ups.
And this is what I came up with when hearing people speak from the bottom of their hearts about the most pivotal and defining points of their lives.
I think it is because I want to understand people. I know that I do not have much social skill but I also know that in the depths of me I want to be able to form connections with others. I want to be able to relate to other people no matter where they are from or who they are. But I want to do it as neutrally as I can, I do not want to be bogged down with misconceptions and stereotypical view of individuals by relating to them as a member of a group from the moment that I meet them.
I want to see them as they are, as an individual, with eyes unclouded by hate or prejudice. I want to hear about peoples experiences and how they differ to my own but also what similarities there are. And maybe through this I can continue to evolve as a human being and perhaps help them come to a realisation that they had been struggling with.
I believe that it is the responsibility of someone in my situation to follow down this path rather than just bury my head in the sand and let the problems of others wash over me.
Maybe be living a life like this I can inspire someone else to do the same, and then they can inspire someone and then before you know it society will be ready to take the next leap forward towards a dream that I believe most of the world wants, in some form or another – Peace and understanding for our descendants, so that they will not have to know the pain and suffering that their ancestors went through.  Young person