Programme of projects outside the UK
Programme of projects outside the UK
The projected missions to conflict and post conflict zones build on the approach taken during a recent trip to Palestine and Israel (March 2013), working in close collaboration with local peace organisations tailoring what is delivered to the nuances of the local situation.
We will always work closely with local grassroots organisations (with whom relationships have already been established) to design a programme of activities demonstrating how reconciliation can happen including delivering talks and workshops to the public and to invited groups including representatives of both sides of local conflicts. We have already received invitations to work in Columbia, Basque Country, Bosnia, Israel/Palestine, Philippines, East Timor, Rwanda, DRC, Cyprus, Lebanon and India.
We have created a structure in which Pat and Jo share their story to act as a mirror and a catalyst to enable dialogue, long sharing of stories, responses and questions. This allows the participants to make the story their own and discuss issues which are raised as well as do the emotional work which is part of reconciliation. We will offer workshops in conflict transformation and difficult dialogue.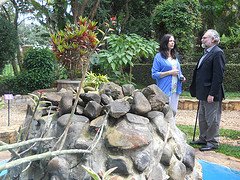 Through a frank, heartfelt telling of their own tale and a skilful facilitation of the extensive discussions and storytelling that follow, Jo and Pat create an inspirational and safe space.  Groups in conflict can then, by speaking their truth and listening deeply, do the emotional work that is the bedrock to mutual understanding and hope.  The theme that runs through all the work is seeing the humanity in the 'other'.
The theory of change underpinning this work is that when people and organisations at a grassroots level develop greater empathy, they resist further demonising of the 'other', are able to articulate more clearly their aspirations for non violent reconciliation and hence implement, support and campaign for it more effectively.  Hence we will be working with the local organisations supporting them to build on the insights and evaluate the changes that people make as a result of our work together.