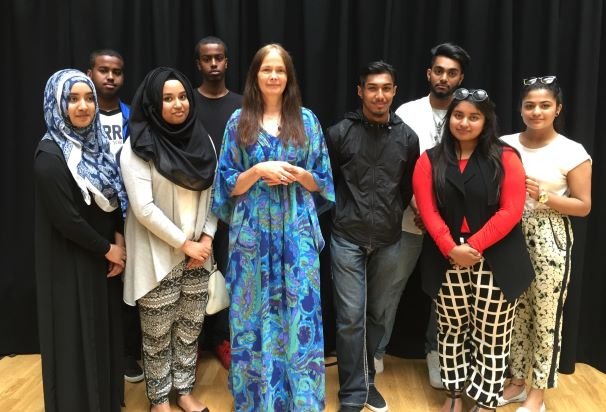 Building a Stronger Britain Together
Building a Stronger Britain Together
Jo Berry with some students at Langdon Park School which is one of the  schools we will be working in.
New Funding
Building Bridges is thrilled to have received funding to work in school in Tower Hamlets. The project will be carried out in schools, 'Schools partnership for empathy based mutual respect'.
As well as being deliver the work we love to do we are now part of a network of others countering extremism. We are providing a positive alternative to extremist views and have the outcome of fewer people holding attitudes, beliefs and feelings that oppose shared values. We will be publishing the results of the evaluation survey which is being carried out by an independent body of our project later in the year.
The Building a Stronger Britain Together (BSBT) programme supports civil society and community organisations who work to create more resilient communities, stand up to extremism in all its forms and offer vulnerable individuals a positive alternative, regardless of race, faith, sexuality, age and gender. The programme allows organisations that share these aims to bid for in-kind support and grant funding for specific programmes that deliver goals set out in the Counter Extremism Strategy.