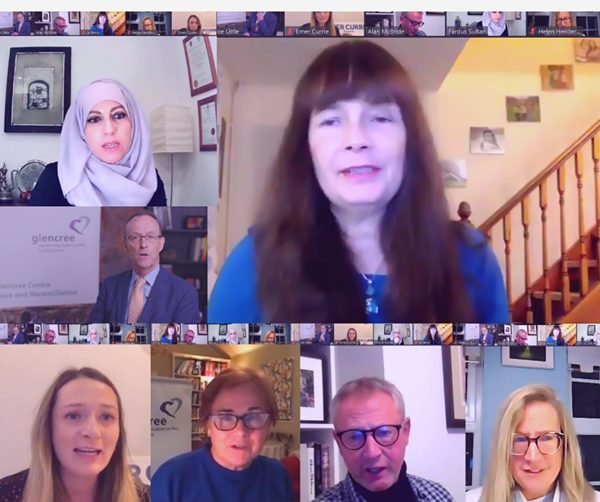 The Possibility of Reconciliation: People and Politics
The Possibility of Reconciliation: People and Politics
In the 2020 Una O'Higgins O'Malley Webinar, peacebuilder Jo Berry shared her personal journey of reconciliation following the violent loss of her father, Sir Anthony Berry, who died in the IRA Brighton bombing of 1984. This year's event, the third in Glencree's annual lecture series, was hosted online due to restrictions of Covid-19 and attracted over 190 guests from across Ireland, Britain, mainland Europe, the U.S. and Africa.
Jo's difficult and painful journey of healing and reconciliation led her to meet Patrick Magee, the man who set off the bomb. In a series of face-to-face meetings, including one at the Glencree Centre for Peace and Reconciliation in 2000, Jo came to understand and see the humanity in the man who killed her father. Since then, she has shared a platform with Patrick Magee over 300 times to inspire others to choose non-violent solutions to heal divisions. Jo founded "Building Bridges for Peace" and has dedicated her life to promoting peacebuilding and conflict resolution around the world.
Jo's journey of reconciliation mirrors that of Glencree co-founder Una O'Higgins O'Malley whose father, Kevin O'Higgins, Minister for Justice in the first government after partition, was shot dead by anti-treaty forces in 1927. In reconciling with her loss, Una forgave her father's murderer despite the claim he 'danced on his victim's grave'. Una continued to campaign for peace and reconciliation throughout her life.
---
Panel Discussion
---
Following her keynote address, Jo joined in a panel discussion with: Senator Emer Currie; Community Worker and Peace Advocate Helen Henderson, who was recently appointed to the Northern Ireland Human Rights Commission; Muslim activist Fardus Sultan; victims and survivors advocate Alan McBride; moderated by journalist Joe Little.
---
---
Key Discussion Areas
---
Key areas the panel explored included: the meaning of reconciliation and how we can live together without violence; how personal healing and relationship building contributes to reconciliation at personal and political levels; the impact of gender on healing, reconciliation and peacebuilding; how current efforts to support reconciliation on the island of Ireland and between Ireland and Britain can be strengthened over the next 5 years.
Watch now at –