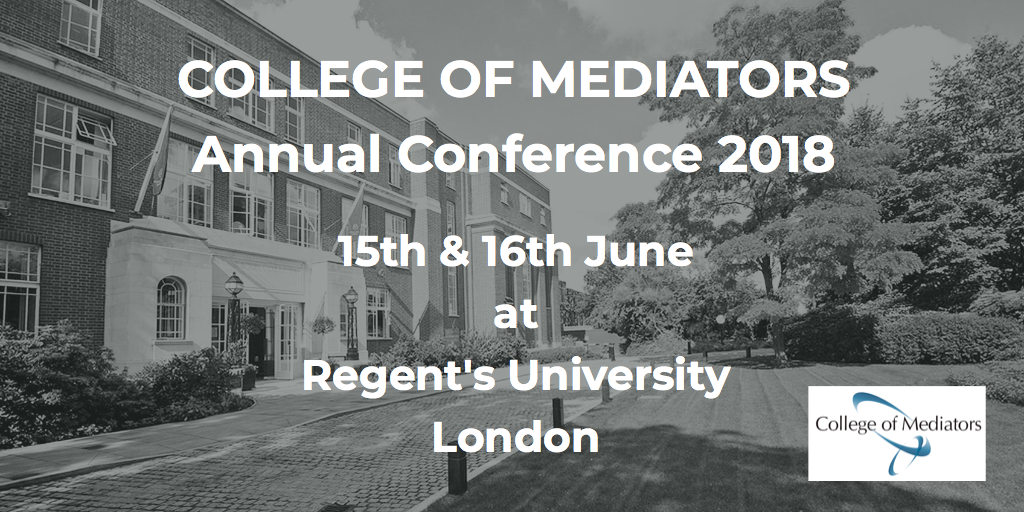 College of Mediators Annual Conference
College of Mediators Annual Conference
Jo Berry and Patrick Magee speaking at the Annual Conference 2018
The College of Mediators is delighted to announce details of its 2018 annual conference. This event will take place at Regent's University in Regent's Park, London on Friday 15th and Saturday 16th June 2018. Those of you familiar with this beautiful park will know what a wonderful location it is for our get-together.
We are excited to present a two-day programme this year, which gives us more time to explore practice issues thoroughly. This new format is in direct response to delegate feedback from previous conferences.
The theme of this event is Working with High Conflict. With presentations from ACAS, Jo Berry and Patrick Magee,  the Disability Mediation Working Group as well as workshops on empathy, attachment theory, immigration, same-sex couples, large-group facilitation and self-care for mediators, the conference will provide a rich range of topics for learning and development. It is a must for mediators working in all areas of practice.
For full details – programme, session info, workshop info, accommodation list and booking form – please scroll down to the end of this page and contact us with any queries admin@collegeofmediators.co.uk